Thursday, May 27, 2010
My hawk-eyed and slightly petulant-looking(in this photo) friend, Chris, sent me this pic of my new illustration in the June issue of Nylon. Also thanks to:Kristin, Nicole and Mickey!!!


Wednesday, May 26, 2010
May 17th, 2010: A news feature about the Akatsuka Fujio collaboration in Nikkei News(my parents will love this)!!!!



Thursday, May 20, 2010
Finally updating about this illustration I did for Company magazine(U.K.). It's really rare for me to draw a guy....I think he turned out okay though. ;-)


Wednesday, May 12, 2010
Hey guys, I'm in Nylon Japan this month in the L.A. street style snap pics. It's out on newstands now.


Tuesday, Apr 27, 2010
Check out photos from the FUJIO AKATSUKA by Gasbook Receptions Party:here!! Looks fun! Wish I could have been there.


Monday, Apr 26, 2010
The GASBOOK x "I Love Bow" tee by Esther Kim is now available on Beams Online Shop.





It's interesting to see my design on a boy. :-)



My t-shirt was featured in the Beams Catalogue.
Saturday, Apr 10, 2010
I finished a new painting. It's called "a friend like you".


Friday, Apr 9, 2010
Well-known Japanese manga artist, Akatsuka Fujio, was beloved for the crazy and funny worlds he created in his comics. I was asked to re-interpret some of his characters from his anime and comic, Himitsu no Akko-chan(Akko-chan's Secret). It was a major collaborative effort between Japanese clothing company: Ciaopanic, creative agency: Gasbook and three artists:Neasden Control Center, Genevieve Gauckler and myself. The website is set up in a fun, "bouncy" way. You can check it out here(I would go to check out the wonderful clothing).


Tuesday, Mar 9, 2010
A little sketch I did on a little weekend trip to Palms Springs.


Monday, Mar 1, 2010
Talk about putting a smile on my face. Awesome girl, Michelle, sent me this pic where she actually cut out the paperdoll drawing I did for the M.I.S.S. show and arranged it in a frame. I love the way she put it together with the little doll on the frame and all...I mean I drew it as a paperdoll but I never thought to actually try it out. Surprisingly the clothes mostly fit....the bodysuit is a little short(but pretty good for just eye-balling it!) :-) Anyways, loving this creativity!! Oh and Michelle has a blog! Go check it out!


Tuesday, Jan 19, 2010
This is my piece for the paperdoll show. I was really obsessed with this Jeremy Scott bodysuit so I ended up drawing it. Its crazy how things get stuck in your head. :-)


Monday, Jan 11, 2010
I'm in a group artshow called Paperdolls! It's put on by M.I.S.S. and Upper Playground! I'm so honored to be in such great company(Claw Money, Kime Buzzelli, Fawn Gehweiler, Mitsy Avila Ovalles!!) and I'm really looking forward to seeing their pieces.


Monday, Dec 21, 2009
I love working with Gas As Interface. They are one of the coolest design agencies in Japan. They put out books, clothes and art direct tons of cool projects! They gave me free reign to design some tees for them...well, actually these are hoodies but there will be tees as well. Take a look: here.



photo: Yosuke Torii
Thursday, Dec 17, 2009
*Both items have already sold but I have more of both. I will be re-listing them tonight. :-)

I've been receiving lots of emails from girls who want to buy my work so I finally put up a few things on Etsy! A set of five postcards and my new zine collaboration, Hairtalk. Check it out here: esther shop


Wednesday, Dec 2, 2009
These are the paintings that I submitted for the PIN Nucleus show. All pieces are priced at $100 and proceeds benefit RED CROSS. The opening is December 12th, 7pm-10pm.



(the girl with the bunny is my favorite)
Wednesday, Nov 11, 2009
My friend, Aya, and I made our second zine: Hairtalk. Our first zine was put together at a tiny Kinko's in Shibuya. It was so fun. We met in Tokyo about three years ago and although we're in different cities in the States now we still try to do creative projects together. So take a look at our latest creative endeavor.


Thursday, Oct 1, 2009
See You Monday is a line that specializes in leggings and seamless products:I drew their new looks for this season. So cute, I want them all!! :-)


Wednesday, Sep 30, 2009
I drew these two girls for a Ladies Lotto event. Co-founder, Natalie Blacker, is one of the awesome-st girls I know.


Thursday, Sep 24, 2009
Miss California USA, Tami Farrell and Lady Victoria Hervey wearing "esther loves kid dangerous". The shirts are finally, finally available for purchase! Go to kid dangerous to get your own. :-)


Sunday, Sep 13, 2009
Here are some pics from the Hannabeth/Royal T pop-up store event. A couple of my pieces were included in the shop and they made this really cool decal with my work. I love it!



Friday, Sep 11, 2009
Hannabeth pop-up shop event at Royal-T tonight.


Tuesday, Aug 11, 2009
I've been a fan of Anna Sui since I was in middle school and its such an honor to have my girls "Sui-fied" in her trademark black and purple. In the nineties everyone had the Anna Sui baby tees. I still can't believe I got to do one.


Monday, Jul 27, 2009
The tees I did for the Glamour Kills/Hannabeth collection are out now!! Here are some cute candid pics of Hannabeth, herself, wearing "The Clutch Tee"(I found the pics on her blog). So cute!!


Thursday, Jul 16, 2009
I've been featured as a "real girl" in the August '09 issue of Ellegirl Japan. It's a section that covers real girls who are working towards their dreams. Oh, and actually, I'm 28, haha. :-)


Wednesday, Jul 15, 2009
There's been a lot of press about the Esther loves Kid Dangerous collaboration t-shirts in Japanese magazines. (Sorry about the quality of the scans and the small images).


Wednesday, Jul 8, 2009
Hey guys, I'm super excited to present this new collaboration. I worked with L.A. brand Kid Dangerous to create a series of images that are my "love letter" to Tokyo and L.A.. I'm really excited with how the shirts turned out. The series has been picked up by Kitson LA, Kitson Japan and will be available soon on the Kid Dangerous webshop as well.


Sunday, Jun 28, 2009
New t-shirt for Korean brand, JBros. I took part in their artist series, curated by the lovely, Kew Yearn Chung. :-) Go here to check it out. My friend, Aya, is also in the series. The three of us(Aya, Kew and I) did an art show together in Tokyo a couple years ago. It's great to come together for a project like this even though we all live far apart now. (Also am loving that they put my shirt on a guy! haha, so cute!) Yeah!


Monday, Jun 1, 2009
I was asked to design a series of eco-themed t-shirts for Nissen's charity tee project. They are donating forty yen, for each shirt sold, to a charity that provides vaccines for children in need. Altogether nine artists created a total of 50 designs you can check them out here.


Saturday, May 23, 2009
More press on the Heather/Esther collaboration in the May '09 issue of PS.


Wednesday, Apr 29, 2009
Check out this month's Nylon....make sure not to skip the beauty features especially the one on pages 86 and 87. ;-)


Sunday, Apr 19, 2009
Jille magazine mentioned my Heather collaboration in their new April issue.


Sunday, Apr 19, 2009
A new illustration I did for the April 944 about eco-blogging.


Thursday, Mar 26, 2009
I did two interviews recently. You can check them out here and here.


Tuesday, Mar 24, 2009
Abe commissioned me to do a page for the POOL TRADESHOW magazine. This is the result. :-)


Saturday, Mar 21, 2009
So the shirts did sell out!! Wow and they've decided to re-order them so they should be available again in April. :-)


Sunday, Mar 15, 2009
I worked on the Spring/Summer catalogue for Heather and I collaborated on a special shirt design. The shirt just came out on Friday but it's already sold out online!?!?!?(Is it a mistake?) :-) Anyways, I love Heather!! So happy and honored to be a part of this!



Friday, Mar 6, 2009
New: Nylon nails! I had a lot of fun painting nails with my characters. You can see it in this month's Nylon. (loving Kristen Stewart's polka dot(House of Holland???) dress on the cover. :-)


Thursday, Feb 26, 2009
Hey guys, I did a collaboration with Human Potential, a really awesome Korean clothing line. It's on a long hoodie, which I love, and it's of a tough boxer girl wearing an EK/HP necklace! I got my hoodie in the mail and I love it(thanks, YK unni)!! I of course wore them with my Human Potential leggings! Anyways, it's out in Korea right now. So go to the store if you're out there....and I'll update here if it becomes available online.


Friday, Jan 23, 2009
Also did a little holiday portrait for Kelley Huston, a voice-over actress.


Thursday, Jan 22, 2009
I did a fun illustration for 944 magazine about the process of putting on your make-up.


Saturday, Jan 17, 2009
Had a totally stimulating and amazing talk with Rickey Kim of Evil Monito over coffee the other day. Smart guy and always on the move! He blogged about it here.


Wednesday, Dec 17, 2008
Issue 4 of Sadie magazine is out. I interviewed and illustrated the illustrious editor-in-chief of Mean Magazine, Mya Stark. Check it out here.



Sunday, Nov 30, 2008
Free Style Scraps 7: Decoration is out. I did three sections: Traditional Japanese, Gothic and Lolita and Lovely Pop. My hands down favorite to draw, however, was Gothic and Lolita.


Sunday, Nov 30, 2008
I forgot about this spread I did for Boston Dig last year. It was fun to do something in my "silly" style.


Wednesday, Oct 29, 2008
Yesterday morning I was so surprised when Yoko, who I thought was in Japan, appeared at my front door along with her boyfriend, Ryan, with what looked like a hundred balloons. Yoko is an amazing photographer(check out Homako on Flickr). I mean if you're the kind of person that shows up unannounced from Japan in a polka dot blouse with a hundred balloons, your photos have to be amazing.


Friday, Oct 17, 2008
My lovely friends at Beautiful Decay are having a huge holiday sale tomorrow. So if you're shopping in the Melrose area tomorrow make sure to stop by before three. :-)


Friday, Oct 3, 2008
I found images of the hoodie I did for the Nylon/Urban Outfitters collaboration, finally able to update and put it in my commercial section. :-)


Friday, Sep 26, 2008
It's a little bit after the fact but I was in a group artshow recently(Thanks, Ginger!). I did three pieces. Two of them were snapped up but my lovely afro girl is still available. If you're interested email me. :-)


Wednesday, Sep 17, 2008
I did a trompe l'oeil design of pin badges and key chains on a canvas bag for Japanese brand, Heather. I personally love their brand and wear their clothes so I have to say this was a dream collaboration. If you're in Tokyo anytime soon you can pick up the bag for free with a 5,000 yen purchase at a Heather store.


Wednesday, Sep 17, 2008
I have an interview on Human Potential, a really cool network of artists, musicians and fashionistas. Go check it out: here. They also have a store with cool clothes. Elisa, my girl, at Human Potential is sending me some leggings from their line!!!! woo hoo!!



I can't wait to wear them!!!!
Monday, Aug 18, 2008
My artshow was "metromixed" last month by blogger and events editor, Alie Ward. Phewf, I'm glad she said it was worth putting on pants for. :-) Thanks to James and Mark D for the heads-up. :-)





Sunday, Jul 27, 2008
I wrote a little review of a really cool zine, chillzine, for the newest issue of Beautiful Decay. It's on newstands now. :-)


Friday, Jul 25, 2008


Randy Pausch, a professor at Carnegie Mellon, passed away today at the age of 47. His last lecture, Achieving Your Childhood Dreams, is a glimpse at a truly extraordinary person.


Monday, Jul 21, 2008
I recently did some artwork for director keri d light's website. On the website the girl blinks! So cute!





Monday, Jul 7, 2008
Hello, everybody, my first solo art show went off safely without a hitch. It was a one-night only event and I did the best I could with what I had. It was a long three months sketching, painting and working and reworking the concept but it was all worth it. The Hairrion girls were lovely, so many of my friends came out in support and it was just an all-around great experience. :-) Here is a picture from the night. (I didn't get that many of my artwork. They were hard to photograph in the lighting there.)




Monday, Jun 30, 2008
I'm having a solo show this Saturday at Hairrion, an amazing salon in Hollywood. The title of the show is "milk tea days" and it's all about those slow days you spend in your room lounging around daydreaming, reading and of course, drinking milk tea. If you're in the L.A. area please come out and enjoy this special night with me.


Sunday, Jun 22, 2008
My hoodie finally came out at Urban Outfitters. I knew that it was coming out this month so I started stalking my local UO until finally yesterday I was able to get my hands on it. It's sheer and super soft; kind of a new-fangled hybrid summer hoodie. I don't think you can get it online but if you go to the stores hopefully it's there. Check, check it out y'all. :-)


Tuesday, Jun 17, 2008
Psst. I will be selling some of my paintings here very soon. Watch for it. :-)
Thursday, Jun 12, 2008
Check out nylon.com. I'm their artist in residence this week(end). Their introduction to my artwork, "What if Strawberry Shortcake grew up, got a cell phone, and moved way downtown?", is so funny cause that's actually kind of exactly how my friends describe me. I am the naive but world-weary, fashion-loving, goody-goody, off and on party girl, nerd illustrator.




Monday, Jun 9, 2008
Yup, it's sample sale season and my friends at Beautiful Decay are having one, too. Me thinks people should go to this if they love cool t-shirts. :-)


Wednesday, Jun 4, 2008
Sadie magazine issue two is out!! Sadie is an online magazine for young women who want an alternative to the usual glossies about hair, fashion and boys. Kind of a cool, crafty, book-loving big sister online magazine and amidst all the savvy instantly updated blogs and other constantly updated media outlets, although their issues don't come out as frequently as I'd like, there is something very sweet and earnest about Sadie which I like. Check out my illustration here and my friend Jessica's here.


Saturday, May 31, 2008
I love to sketch and doodle while other people are talking. I half listen and half draw. At home I usually draw by myself and it's more focused but I really enjoy this kind of carefree, lazy doodling. These are some doodles I did recently while I was visiting friends in Chicago.


Tuesday, Apr 22, 2008
I had a little mention in the April issue of Elle Korea. Thanks, Eun Mi!


Friday, Apr 18, 2008
Here are two recent images that show my perpetual penchant for the color pink and big bows.


Thursday, Apr 10, 2008
My friend Jessica is participating in an art show far, far away in Copenhagen. Yeah, Denmark! It's produced by Cookie Factory. Go, go check it out. :)


Tuesday, Apr 1, 2008
My friend Aya, from Charm School East, just redid her website. Go check out her dreamy drawings and subtly chic designs.





Thursday, Mar 27, 2008
I am so excited to say that my work is being featured in the newest Nylon and Urban Outfitters collabo tees. The tees are not available yet but you can see the designs and read the artists' bios here.


Saturday, Mar 22, 2008
Go meet Kit and buy her hairbows at Fred Segal(Santa Monica) today.

Kit Pistol is an LA based designer who was selected from thousands to become one of fifteen contestants to partipate in Season 4 of Project Runway. While her clothing Design continues to flourish, Kit Pistol Hair Accessories have
premiered exclusively at STUDIO as evidence of her unique
and edgy fashion sense.


All the Right Ingredients
STUDIO at Fred Segal
Invites You To Stir Things Up
Saturday March 22, 2008, 12pm-5pm


Thursday, Mar 13, 2008
I just finished a painting of an adorable new friend, Tsubi.





Thursday, Mar 6, 2008
Today I had an hour to myself to sketch in my blackbook. Here's what came out.


Friday, Feb 29, 2008
New work for Ellegirl Korea and Nylon out this month! So exciting! :)


Tuesday, Jan 29, 2008
Free food and drinks and limited edition t-shirts for the first five hundred guests. ole'! Don't forget to RSVP.


Sunday, Jan 27, 2008
I made my friends calendars as their christmas present. I'm still printing and passing them out(ahh!!). I'm uploading all twelve images in the painting section. Here is October and February.


Thursday, Dec 20, 2007
My friend Kit, recently of Project Runway fame, has some really cute t-shirts and bows for your hair on her website. My favorite is this sleeveless hoodie.


Sunday, Nov 25, 2007
I have a beauty section on my blog in which I review and illustrate products that I like. I've done three so far. Here's the latest one.


Monday, Nov 12, 2007
New silly drawings! This is my mom, me and my brother. :)


Tuesday, Nov 6, 2007
Here's a new drawing I just finished.


Thursday, Oct 25, 2007
I've been checking out this blog: miss crew for a couple months now. It's an informative, smart, street fashion blog. I especially like their regular segments called Art Herstory in which they highlight female artists. It took me by complete suprise when they featured me recently. Check out the article here.
Wednesday, Oct 17, 2007
I went to my friend's house and her bf was making this amazing collage duly inspired I asked for some scissors and glue and came up with these three collages of my own. I have to say collages are cool!!!!!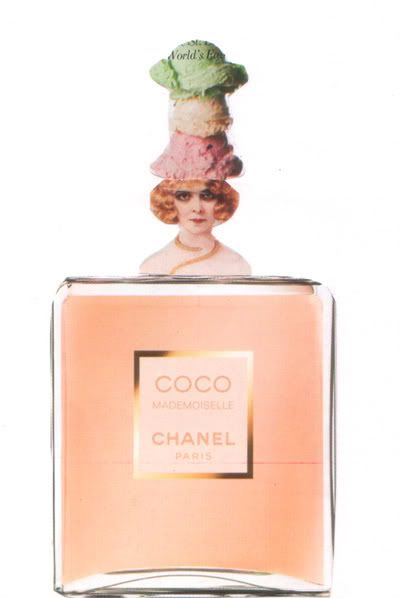 Saturday, Sep 29, 2007
I think my biggest news item this month is that I have permanently relocated to Los Angeles. It's been over two years since I lived here and everything feels new and familiar at the same time. I already made a new friend though: Bacon. He's a cockapoo.


Wednesday, Sep 19, 2007
My friends Kew Yearn Chung and Aya Yamasaki, along with their friend Lotta-lina Salonen have a serial magazine filled with contributions from all their artist friends. The four issues are: "cough drop", "itch" , "soothe" and "gone". They have already released "cough drop" and "itch" and have two more to go. They just renewed their site so go check it out!


Sunday, Sep 16, 2007
From my blog, blog:

Please welcome my first special guest on this blog: aya. She is an amazing illustrator and graphic designer. I think every girl has been on the quest for the perfect bag but not every girl can illustrate that quest. Aya documented her recent search and final purchase with these adorable illustrations and her charming narration. Enjoy!

day 1:
Shinjuku department stores
1. Lumine est
2. Lumine 1 & 2
3. Flags
4. Keio department store
5. Odakyu department store

What I found: so many metal hoops and ornaments on a bag which i didn't like.
most of the bags i saw seemed too trendy so i didn't think i can carry that after this season..
so after the 6th department store, i just felt given up for the day.
what i look for my dream bag is...it can go formal, but casual..also has to be simple..
it's difficult!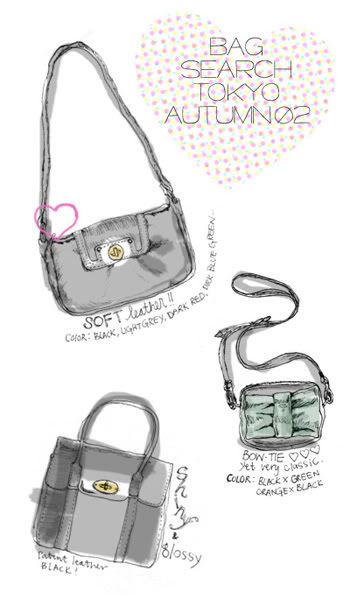 so, about those 3 bags, i really liked that they're all classic but yet some part is still playful and new.
i picked the little black purse! it feels so nice~
Wednesday, Sep 5, 2007
My friend was running late, an hour late, so I popped into the McDonald's by the station for some coffee and fries. It had been a while since I sat and ate at McDonald's. Once in a blue moon I'll crave a McFlurry or some chicken nuggets or the newest gimicky thing on the menu piques my curiousity and I find an excuse to indulge myself, but when I succumb I usually take my guilt to go. I'd rather not be caught in public stuffing my face with trans fats. I can only enjoy this kind of guilty pleasure at home or with a friend, "see, she's eating it, too. we're just eating it for fun. see how fun it is...".

But yesterday as I was sitting by myself facing a menacing pile of fries, coffee and the gray spackled countertop, I felt like a fly on the wall. The place was filled: mostly broke highschool students, broke college students and broke bachelors. I was fascinated and I listened intently to all the commotion around me. When that got old I turned to my book but smoky gray ash kept raining down on me and sticking to my skin. I was surrounded by so many young smokers(teenage rebellion!! so overdone, but interesting). But after forty minutes I started to feel truly miserable I felt like I was coming down with something and I nearly ran out of there when my friend called to say she arrived.

In the end the fluorescent lighting, underage smoking and ash kind of took the joy out of my anthropological research and squashed my rose-tinted memories of hanging out here with my friends when I was a teenager, but it was worth it to get a brief look at a different side of Japan otherwise I'm kind of sheltered by my trendiness.





9/24/07, Shimokitazawa, McDonald's
Monday, Sep 3, 2007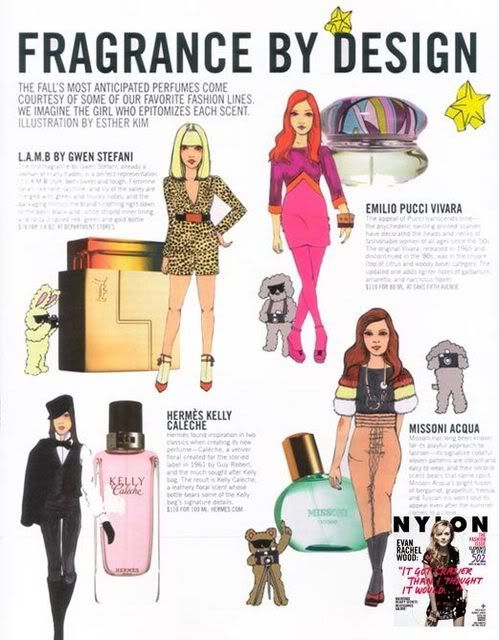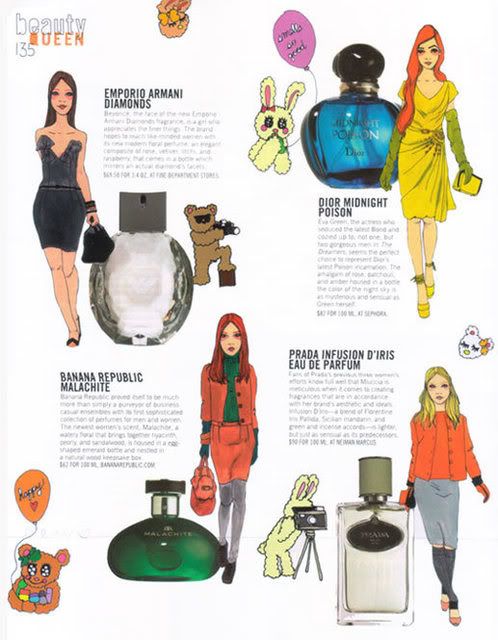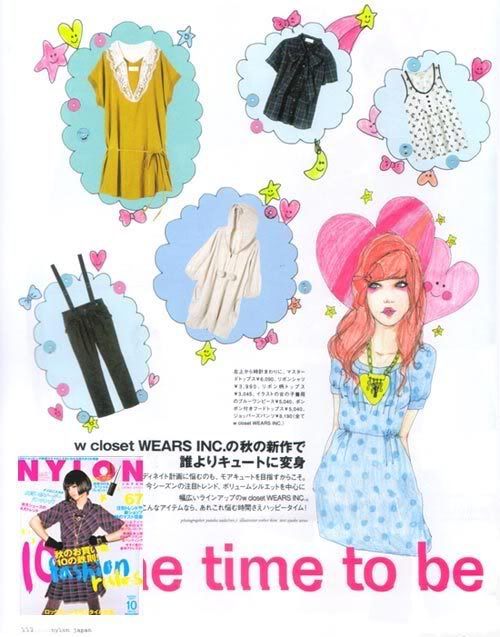 New illustrations in the current issues of Nylon and Nylon Japan.
Saturday, Aug 18, 2007
i uploaded some new paintings and drawings. :)


Friday, Aug 10, 2007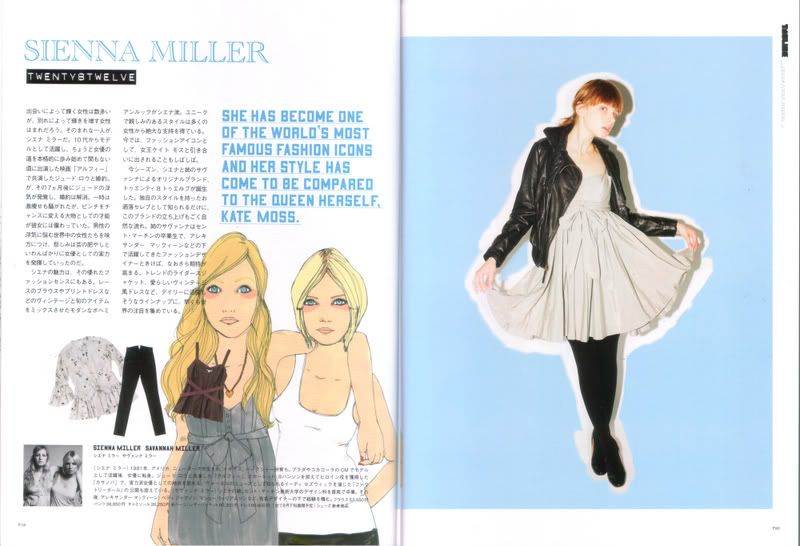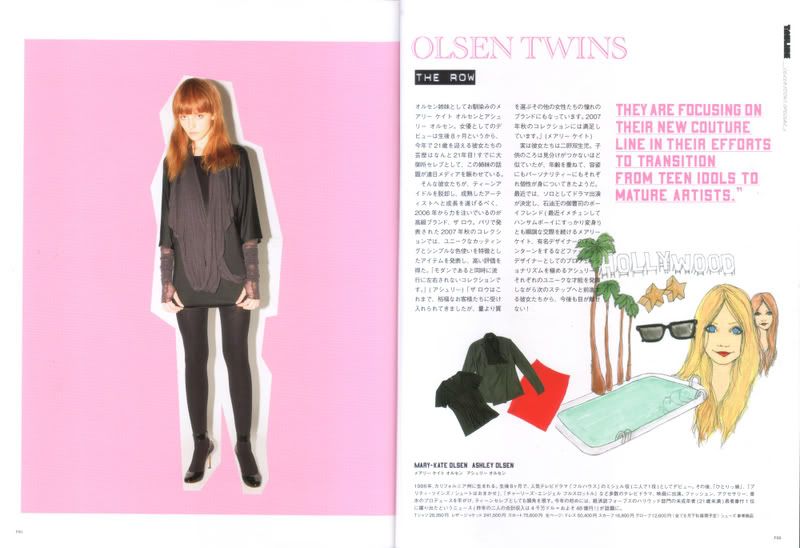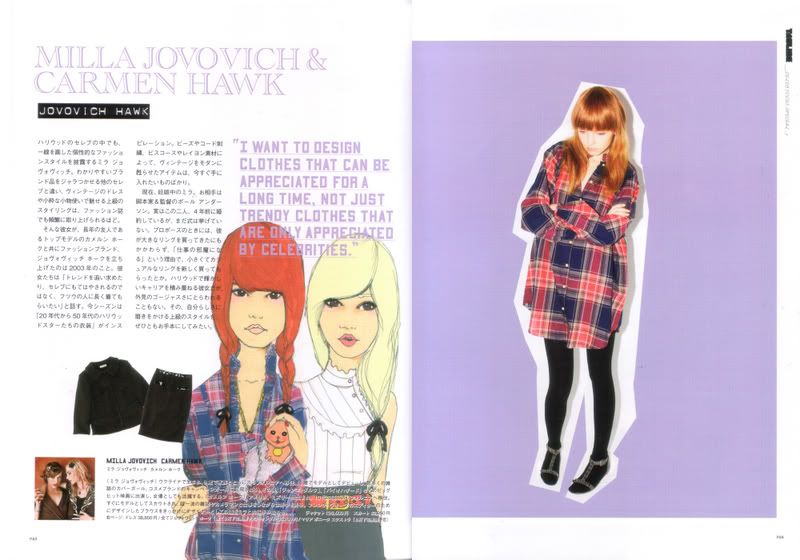 New illustrations for Isetan's in-store magazine, Tagline, highlighting celebrity designers.
Tuesday, Aug 7, 2007
I sent Aya T. Kanai a fan email with a drawing I did of her a couple months ago. It was printed in the letters section in this month's issue.


Monday, Aug 6, 2007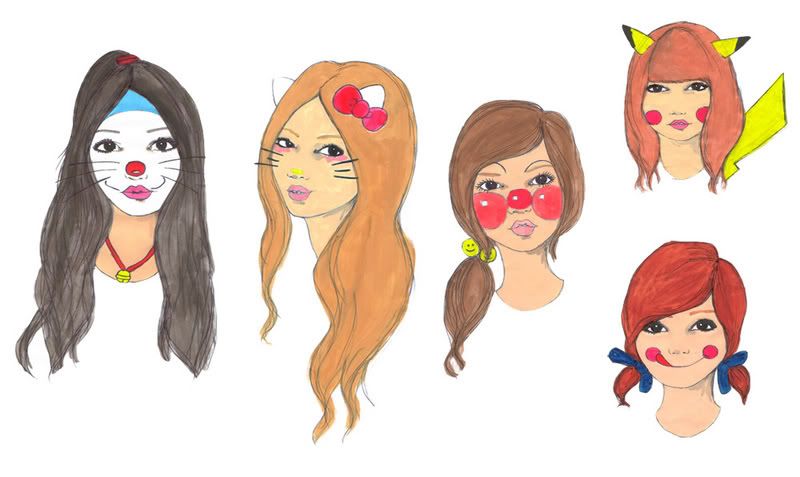 These are some paintings I did for the Charm School East "hello, bye, hello" show back in March. The title of this series of paintings is "japop, pop". A lot of Japanese words use onomatopoeia which is "the use of words whose sound suggests the sense"(Merriam-Webster). Often these kinds of words repeat the same sound for example: pata-pata means rain falling and is literally an imitation of the sound or shiku-shiku which means crying and is also an imitation of the sound of the action. Hence, "japop-pop", the other members of the show Aya and Kew also named their works in a similar fashion: "ring, ring", "heart, heart", etc.

Anyways, for these paintings I was thinking about how popular Japanese pop culture is, Japan's culture of cute and the perception of Japanese women. Japan Inc. has many products and I was thinking about how in a sense Japanese women are products, too. I'm thinking specifically 18-24 year olds and 25-31 year olds. They are marketed/seen as cute and sexy playthings and marketed/catered to by all kinds of companies as hyper-consumers. So for me these cartoon characters and the image of the sexy, cute Japanese woman are equally iconic and symbolize what I see as a popular image of Japan, particularly overseas.
Wednesday, Aug 1, 2007
Here are the images from inside the new Nylon.
:)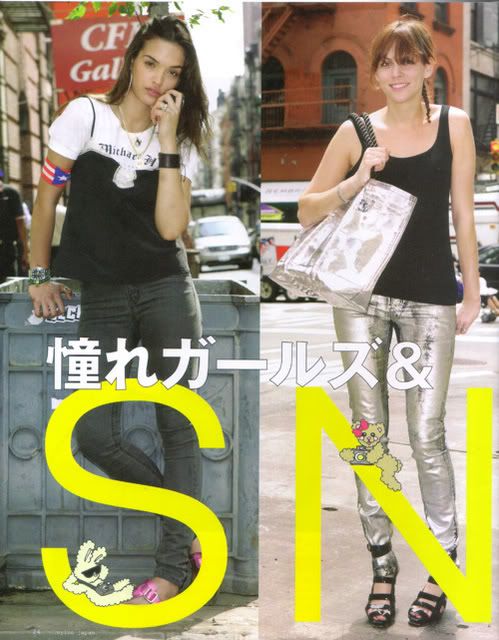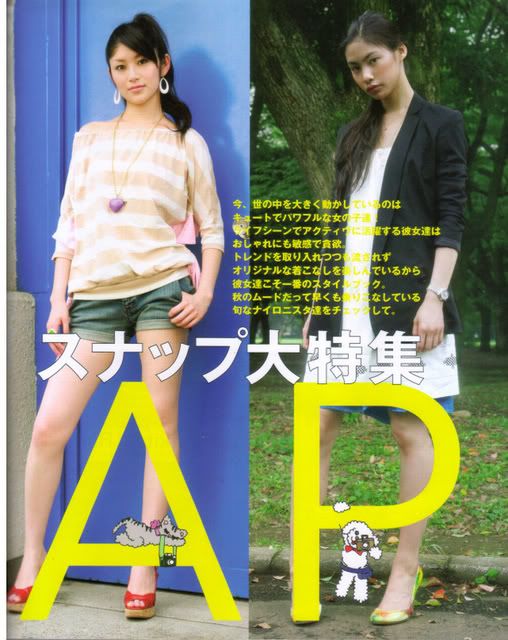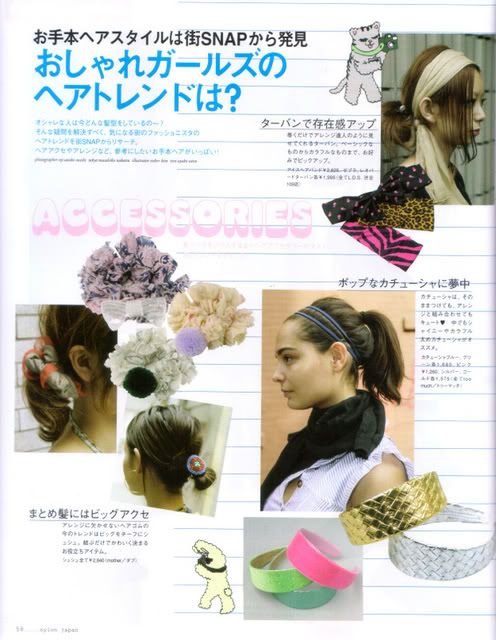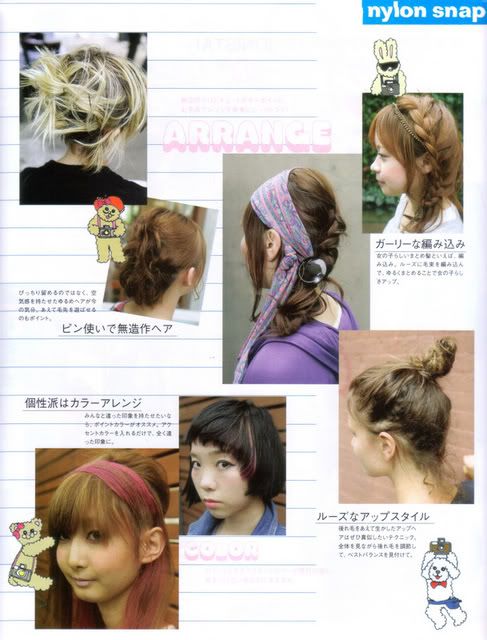 Saturday, Jul 28, 2007
My animals are traipsing around inside and outside this month's Nylon Japan. It's a special street snap issue and my animals are photographers. Try to find them all: bunny, cat, dog, bear! :)


Wednesday, Jul 25, 2007
I love esther watson. Her comics have a bittersweet humor. (go to her page for the larger, clearer version.) You can buy her comics and zines here.


Thursday, Jul 19, 2007
what to do on a friday night in shibuya...i wouldn't have a clue unless it was tomorrow....my friend in l.a. emailed me about this art show opening!! the website is a little confusing but go here for more information.





Monday, Jul 16, 2007
wow, july is going so fast. i just finished working on something for Isetan and am working on something for Nylon Japan and Nylon US right now, now, now!!!!
Friday, Jun 29, 2007
yes, i did the fashionable thing and started a fashion blog.
go check it out at: faux faux real


Saturday, Jun 16, 2007




yeah, purikura!

yeah, new silly drawings!


Thursday, Jun 7, 2007
aya t. kanai is the senior fashion editor at nylon america; the pages she styles for nylon always pop out to me. here is my illustrative homage to a great stylist.

(oh, and i updated the commercial section with my recent illustrations for Nylon Japan.)


Monday, May 28, 2007
my illustrations are in the new july issue of nylon japan!!! so yeah, since i basically moved to tokyo to be in nylon japan i am pretty excited and can go home with my honor intact.


Monday, May 21, 2007
I also do blogs like this....(a fashion blog with illustration, yeah!)

This is my first fashion blog; please allow me to pontificate a little about my style policies and problems. As serious as I sound I ask you to laugh as loud as you want, at any point as many times as you want and at times I will even cue you in to be my laughtrack. Most people don't take fashion too seriously and i thought I didn't because I don't spend a lot on my wardrobe but I have to admit I do think about it a lot...so I have recently reclassified myself as the "take fashion too-seriously type".

So let me start by trying to explain a little about my personal style. I tend to like classic designs in terms of clothing. My idea of classic can be summed up in a few words; faux french, fo real. When i make a purchase i ask myself, "is this faux french, fo real?"(it's okay to laugh, it's meant to be kind of self-revealing) and if it's yes, i can confidently buy knowing that i will wear the thing. it saves me a lot of time because all my clothes are related by this theme and it gives me direction in how I dress, having said that it can also be stressful at times. Fashion stress dosen't get a lot of sympathy but i've made a new policy to be more candid about my weaknesses/neuroses, haha, and i guess i can start here, so please bear with me.

In order to explain i have to go into a little bit more detail about my style. If I had to catergorize i would say that I have two main fashion personas:ultra femme and smart tomboy. My ultra femme style is feminine and girlish; a typcial outfit would be a pink leopard print cardigan, pale pink satin camisole, skinny blue jeans, my teddy bear pendant and glittery pink high heels. My smart tomboy style is boyish and classic; a typcial outfit would be a black blazer, button down shirt with skinny denim overalls, my teddy bear pendant, flats and black frame glasses(prescription). When my outfit is not clearly aligned to one of those categories I get stressed out by the mediocrity of the sartorial message I am sending; it makes my new clothes dull, bright colors seem faded and my acne worse. i think my friend put it best when she said, "if you're going to be a monkey, be a gorilla". Being a gorilla girl is not always easy but i try to stick to my guns.

Seeing as I currently teach children another fashion qualm is that I am forced to choose function over form and that hurts my feelings because most of my ultra femme outfits are function free and full on form.....and thus i am stuck in the dreaded mediocre work clothes zone while my dresses gather dust in the recesses of my closet.

Another thing that bothers me ever so slightly is that I am really bad with prints. I usually go for solids and the only textile variety I have are stripey shirts, polka dot dresses, the occasional floral(which are usually given to me) and lots of leopard. I am interested in branching out in terms of prints but I am lost when it comes to this alluring pattern filled world beginning with color, size of the print, fabric, etc. My functional side tends to see prints as one-trick ponies that only go with certain items versus the hardworking solid that goes with everything but I'm working on getting rid of this prejudice...I'm planning to buy some pretty print blouses for the summer. we'll see how it goes.




ultra femme, smart tomboy
Wednesday, May 16, 2007
i also do drawings like this.


Tuesday, May 15, 2007
my low tech attempts at doing "something" with my drawings.


Tuesday, May 1, 2007
these two beverages made my day today. i was working on a drawing but nothing was happening with my hand and the paper so i went for a walk. i picked up two dvds and two drinks. right now it's 2:22am, i swear. but yeah, i got hyped by the walk and finished my drawings! and now i'm gonna sleep. word.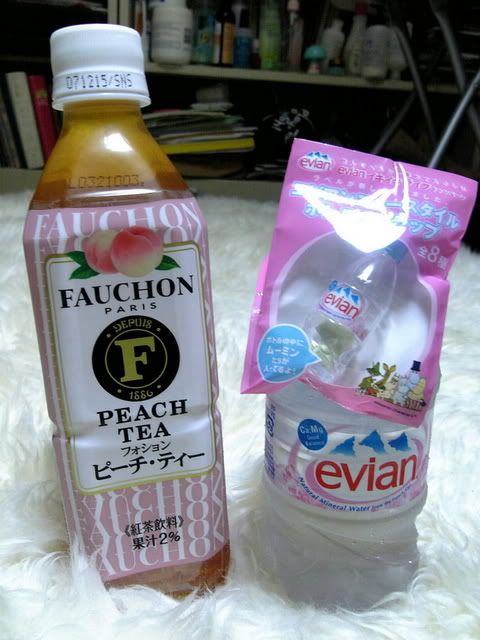 Wednesday, Apr 18, 2007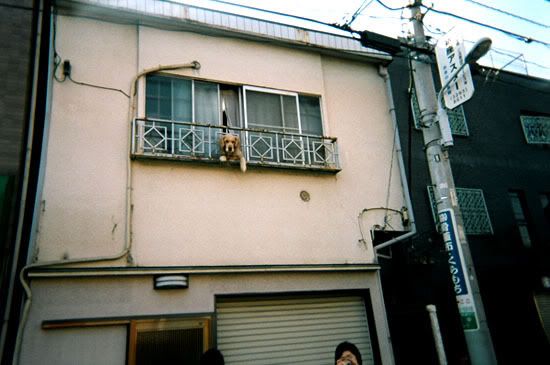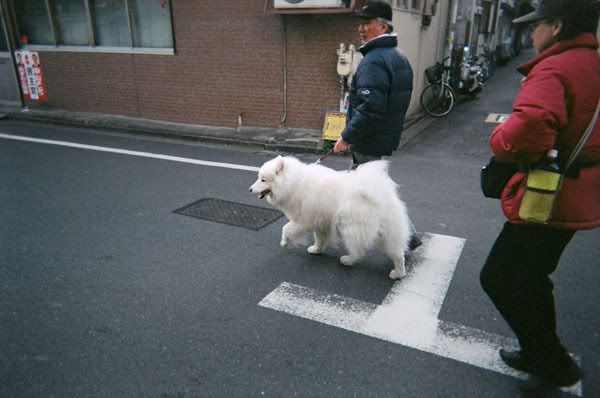 dogs of nippori.
muji instant camera.
Wednesday, Apr 4, 2007
charm school east!
banzai!
already cherry blossom season again.
but it's still cold.


Monday, Mar 12, 2007
a couple months ago i found out that i have a mild allergic reaction to shrimp. it's kind of sad cause i really enjoy shrimp; now that i have to shun shrimp it has opened my eyes to the excessive amount of shrimp consumed in japan. i cannot go through a single day without having to turn down shrimp. shrimp osenbei, shrimp tempura, dried shrimp in cup noodles, shrimp tempura on curry, shrimp chips, shrimp in fried rice, shrimp miso soup, shrimp sushi, shrimp gratin burgers at mcdonalds......ahhhhhhhh!!!!

i found this bugger the other day.

oh, and i uploaded two new paintings today.


Tuesday, Mar 6, 2007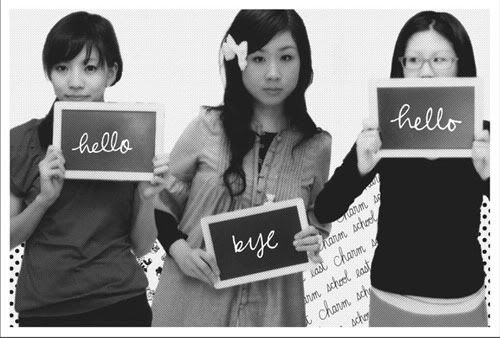 this is a show about us three girls who met here in tokyo.
we are all moving away in the coming months and this is our goodbye to the city that enabled us to meet.

click here for more info
Saturday, Mar 3, 2007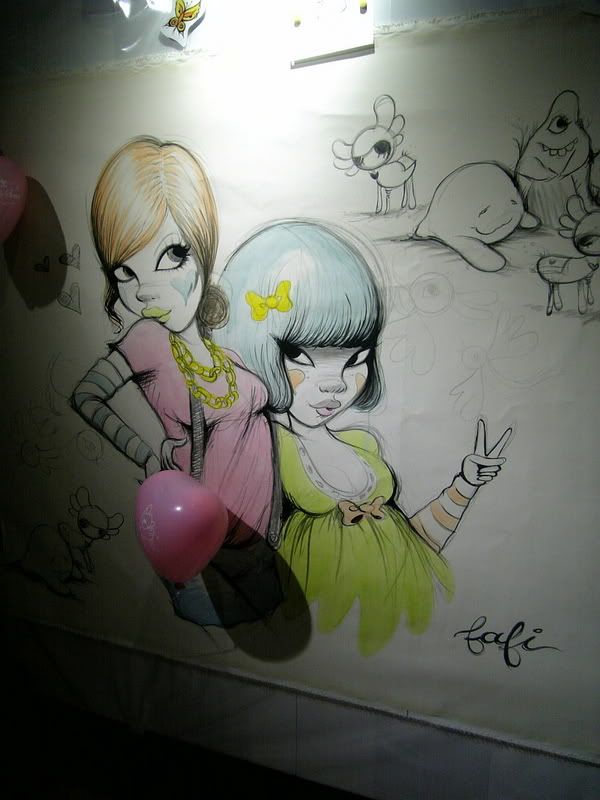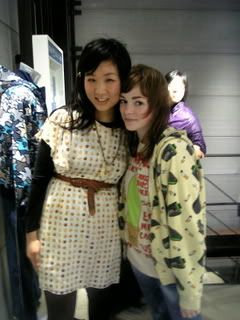 harajuku adidas/fafi/uffie
Thursday, Feb 15, 2007
my nose is so clogged up that at some points throughout the day i literally can't breathe. while i was attempting to swallow some medicine i ran out of breath and spit out all the water in my mouth. plus the inside of my throat feels like someone's rubbed it with sandpaper. needless to say i have been cranky all day. but i felt the need to post( i can still sit in front of the computer and breath heavily through my mouth) because i uploaded some new paintings. i've been having fun with watercolors lately. i hope you like them.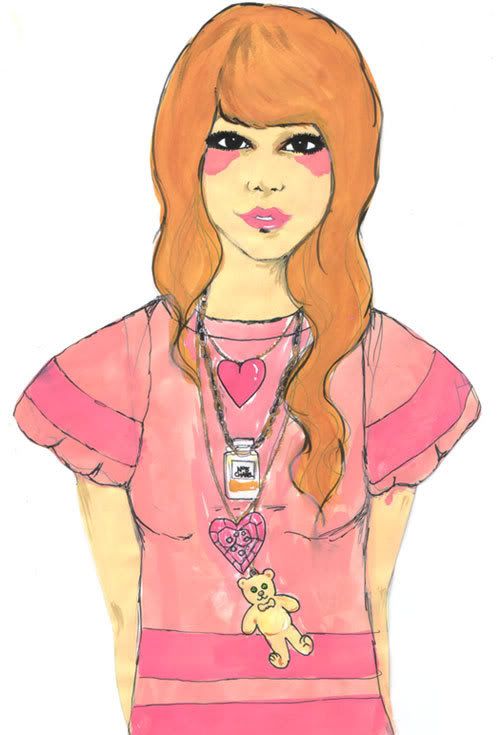 Wednesday, Feb 14, 2007
OPENING RECEPTION FRIDAY FEB. 16th 6pm-9pm

"ANOTHER SATURDAY MORNING TRAGEDY"
THE COLLABORATIONS AND WORK OF OLI WATT AND ANDREW WINSHIP

"Another Saturday Morning Tragedy" reflects America's preoccupation
with cartoon violence. The argument may lie in the over-saturation of
the violent images available to today's youth or as a re-evaluation of
Warhol's "Disaster Series" and the relevance of the de-sensitization
of tragic images in this post-9/11 climate of fear. The collaborative
work of Oli Watt and Andrew Winship has spanned the better part of a
decade, cheerfully imagining the death of Snoopy, the lament of Mickey
Mouse over an assassinated friend, or the imminent suplexing of a
helpless field of bunny rabbits by a masked Mexican wrestler. This,
however, is not the detached serialization of depicted violence. These
works are a call and response of two artists raised on a junk cereal
diet of the recurring demise of Wile E Coyote, duking it out on their
canvas, each equipped with an arsenal of canned laugh tracks and
cartoon onomatopoeia. The collaborative act can be a battlefield and
pop cultural signifiers are the preferred weapons in this particular
war. Are the hearts and minds of the innocent vulnerable to an
onslaught of cyclical tragic images? Probably. Let's just hope that
when they grow up, they may be able to laugh in the face of adversity.

FEB. 16th-MARCH 10th
Hours Wed. & Fri. 4pm- 7pm, Sat. 12pm- 9pm

ROOTS & CULTURE CONTEMPORARY ART CENTER
1034 N MILWAUKEE AVE
CHICAGO, IL
773-235-8874
rootsandculturecac




Tuesday, Feb 6, 2007
the tea was too sweet but the snowman butter cookie was gureat!


Sunday, Jan 28, 2007
new.


Thursday, Jan 25, 2007
nakameguro styles, yo.


Wednesday, Jan 17, 2007
my friends, aya yamasaki and kew yearn chung, just put out the newest issue of their conceptual magazine series cough drop. this issue they asked artists to interpret the word, itch, and undeserving as i am to be put in this magazine; i was lucky enough to make the cut.

my thoughts were immediately about the "itch" you get when you meet someone you can't get out of your mind....
(i think you should come here. i thought you had cool hair.....) i. t. c. h.




if you're in tokyo you can pick up issues of "itch" at watarium.



i'm sure you can tell which side is mine....for the color version i just uploaded it in the drawing section.
Tuesday, Jan 16, 2007
new. new. new.


Friday, Jan 12, 2007
hello, hello, new silly drawing up today!

(i suppose i am giving away the punchline by always posting the drawings along with the announcements.....and i feel silly about that, but it pleases me more aesthetically to post it here as well. so i guess i will continue to do so until i think of a more interesting arrangement).



Thursday, Jan 4, 2007
2 new drawings added today. this one is a little bit christmas-y with the little tree brooch on her cape; just in time for the two-weeks-after-christmas, christmas celebraters.



Saturday, Dec 30, 2006
one of the reasons i miss my brother.



he can jump high.
Monday, Dec 25, 2006
santa in my candles?


Saturday, Dec 23, 2006
personal christmas thoughts....
i watched Love Actually about two weeks ago and oddly enough it left me with a very heavy-hearted feeling. i knew what i was getting into when i rented it and was fully ready to be really disappointed or stupidly buoyant from a frivolous distraction. but i ended up feeling sad. these hollywood(in this case:by way of London(or the other way around)) movies put a sugary sweet coating on the portrayal of humanity and tend to ignore unhappy and undesirable people. that's nothing new and while syrupy christmas movies have their merits i ended up feeling sad that so many people only see christmas as a time for finding love in each other whether it be in their family or a partner. i think it's great that many people regardless of their religious beliefs take this holiday to spend time with loved ones and i admire families that uphold that tradition. it's just that it seems like its much easier for people, including myself, to swallow the kind of sweet medicine that these holiday movies offer than to seek reality. furthermore, the actual reason why we have this holiday has been hidden underneath so much packaging that many people have no idea what it is really about and while that is not of any consequence to many it is very sad to me....


Monday, Dec 18, 2006
today i went to a piano recital(i'm typing this as i listen to her cd). the pianist was a south korean round-faced cherubic 22-year-old who was born with two fingers on each hand and no legs beneath her knees, hee ah lee. i watched her documentary and was moved by her life story and so i was very excited to see her perform in person. as i expected i ended up crying from beginning to end. if it wasn't the beauty of the music she played and just the sheer wonder of her ability, it was her straightfoward and bright personality shining through in her witty comments in between songs, it was her cross necklace looking so rugged on her small frame, it was recognizing the shoes she put on her knee stubs as the same ones she wore in the documentary, it was hearing her play arirang, it was seeing my dad's reddened eyes; it was everything about her. i just couldn't keep it together; there was so much love coming out of this little person. and as her mother said she is able to love others because she loves herself. it's a love that grew strong under the care of a mother who always kissed her daughter's two fingered hands saying they looked like beautiful tulips. a love that grew from the blood, sweat and tears of a resilient mother and daughter practicing piano for hours on end day after day when everyone said that a person with her disability could not possibly play the piano. a love that grew from genuine confidence in which she does not feel sorry for herself. i am reminded of a lyric from a song, "let the weak say, "i am strong""; hee ah has taken her weaknesses and made them into strengths and with each song she plays she shows love to a world that did not initially want to love her.

during the talk segment of the show her mother said hee ah often laughs outloud in her sleep. mrs.lee said she would wake from the laughing sounds and when she asked her daughter what she was laughing about hee ah would say she could not recall because she was sleeping. she wanted us to know that hee yah's brightness was innate it was not only the upbringing of a wise mother but because hee ah is truly a happy girl. i cannot think of anything more beautiful.

hee ah lee (it's in korean)



Friday, Dec 15, 2006
and a new drawing inspired by my favorite outfit as of late. i've been wearing my baggy denim suspender pants at least three times a week for the past two months....kind of sad...kind of not.


Friday, Dec 15, 2006
all the cute boys hang out in nakameguro but look at this catch i found in shibuya!!!?!?!


Wednesday, Dec 13, 2006
some new silly drawings to make you smile!



Thursday, Nov 23, 2006
this is the oddest thing i have seen in awhile.
a little, tiny child sitting on the baggage rack of a train.
his father is definitely holding on to his leg
and he is definitely texting his wife....
but no one is saying anything to him because
he definitely looks like he works out...at the local pachinko parlor.


Wednesday, Nov 22, 2006
two new drawings. and more to come!!
go check them out.

on the news tonight wild monkeys terrorizing japanese farmers.
this summer it was wild snapping turtles biting unsuspecting children at parks, a couple months ago
black bears...this island is teeming with small but fearsome animals.



here's one of them....
Wednesday, Nov 15, 2006
a new drawing.
oh by the way the leaves have not turned yet, they're still green.
i lied in the entry below...i fibbed about fall to match my feelings....that or my powers of observation are not so hot lately.
middle of november and the leaves are STILL green. that's cool, though.


Wednesday, Nov 1, 2006
hello everybody, i can't believe its already november.
the weather has been so amazing these past few weeks.
i've never had such a pleasant fall in tokyo before. crisp clear skies and leaves turning, not a rain cloud in sight. i am usually
freezing cold by this time of year....but i'll take whatever mother nature sends my way. not to be cocky but i am getting better
at dealing with the cold. for instance i have discovered that a blow dryer does not
only dry your hair it can also warm your hands and feet and candles, not only do they smell good, but when lit in multiples they can warm your room....
cool, huh?
oh and i managed to finish a new drawing today. here it is....




Saturday, Oct 21, 2006
new drawing! i'm really into this one.
i totally have favorites although i'd like to say they're all my favorite.
and you know when they interview musicians and ask them what is their favorite song on their album and they say they don't have favorites cause they love all of them for different reasons.....i think they are mostly lying....



do ya' like it?
Wednesday, Oct 11, 2006
2 new drawings!!
check it out in the drawings section.
and birthday partie(s) went great!
i got a ipod nano as a gift, which is totally changing my life.
i am such a luddite. i will write soon about how i am "adjusting" to life with nano.
maybe a before/after study.
haha.



my cat.
Sunday, Oct 1, 2006
i'm trying to plan my birthday and its stressing me out.
i tried to be super duper nice and invite everyone i know but things fell apart big time today(my reservation fell through after invites were sent out....).
but the date is set for saturday and the show must go on.
i am beginning to feel selfish for throwing a big ol' american style "me" day. my mom
pointed out to me that a lot of people don't really do birthday parties here(not like america) and that people might find it a bit unusual/weird/egotistical that i am throwing my own party.
argh. argh. argh.
she has a point......really, i see what she's saying.
and it sucks to kind of see it from that side(makes me ask myself am i sacrificing cultural senstitivity to maintain my sense of "me"? is my sense of "me" more selfish than their sense of "me"?).
but i don't want to hyper-hyper-analyze to the point that it paralyzes me; i did too much of that when i first came back......
it takes more work and it is potentially more embarassing to have a party but i still think it's worth it;
even though i kind of lost it today and fought with my mom and got really frustrated about it all....
yeah....

i feel like a business venture capitalist scrabbling around to get things together by saturday for a meeting at which i have to convince shareholders that our company is not going bankrupt when actually it can go either way.

i'm no richard branson but i think i can do it.

Wednesday, Sep 20, 2006
i snuck out of tokyo this monday for a short little trip.
i went to takasaki to visit my friend, jenisamazing.
yes, that's her name.
i don't really ever leave tokyo when i'm in japan. so this was
very exciting for me.

takasaki reminded me of southern california!
it was flat, open, dry and sunny, with wide roads. and jen told me they have a high car-to-person ratio.
i felt a bit out of place walking on the streets....the same feeling i get when i walk around in l.a..
it's so nice to see places outside of tokyo. it's really different: people seemed more relaxed in takasaki for the whole
14 hours i was there.
and there's lots of cool bugs. go countryside!!
and they are really into darumas. it's like the city mascot.
they're everywhere
they sell clothing in small, medium and daruma. everywhere i look is daruma.
daruma, daruma, daruma.
and hello kitty in takasaki has morphed into a daruma.
as for my daruma souvenior of choice i chose the hello kitty daruma lunchbox.
as for what a daruma is, it's a long story...but basically a monk was
meditating so long that he lost all his limbs and became a round shaped
person (i think) and now it(he?) is considered a symbol of good luck
and holds the position of "the" mascot of takasaki.




Saturday, Sep 9, 2006
sometimes i try to express myself, here i go again....

i was only planning to be in japan for a year but now i don't know if two years will be enough.
i'd forgotten i have roots here and for many years i have mislabelled myself as a nomad. having lived in many different places, for a long time i felt like i didn't have a place to call home but i realize i have taken for granted the relationships and history i have in all the places i have lived. i have two homes and i am getting to know my place here in japan again. i haven't quite figured out why i always played down my belonging here. i feel comfortable saying i'm from l.a.. i was born there and have lived there for over 14 years in two separate stretches as a child and and a university student. most of my friends know i lived in japan for seven years during my pre-teen and teenage years but i have never said i'm from here, even when i first came back to the u.s. when the total years spent in each country was more even about 11 to 7. i have always had a foreigner complex living here: i have never considered myself japanese but one cannot live somewhere for so long and think one is not colored by the experience. parts of me are japanese and i never really recognized it until after college; i can see it more in hindsight. i still do a mental double-take when i recognize things that are japanese about my personality. it is easier to see the korean and the american and the korean-american. i think it's because i have always felt like my time here was a very long, very interesting and fun anthropological trip; i never felt like i belonged here. alot of that has to do with the fact that i attended an american school, international church and all my friends could speak english. that is not to say i did not try to get to know japan. on the contrary, i thought i knew it really well. most of my friends spoke fluent japanese and i admired japanese fashion to the point where it made me look down on american fashion. another thing that held me back from knowing japan better was my self-imposed "native" status. i disdained seeming like a tourist, a new-comer. i knew all the shops, went to karaoke, watched the variety shows, and read the magazines; i could get by, why should i have to try to get to know it better. i didn't want to seem like i was trying hard. i lived here so i thought whatever knowledge i picked up from daily life was enough, even though it was very filtered.

this time around experiencing japan as an adult i realize that strange pride and nonchalance kept me from going deeper into this culture. although i had a lot of trouble this past year reassimilating to life here i have now adjusted and have purposely embraced a more humble attitude. i am trying to improve my japanese, carrying a dictionary around and writing down words i don't know. i am reading manga, an activity i thought was too otaku and weird when i was in high school. i am trying to read novels in japanese and i am making japanese friends. you would think that it wouldn't be hard to make japanese friends in japan but all my friends have always been "something else"...japanese-korean, irish-thai raised in japan, japanese but fluent in english. during my first seven years here i never had a japanese friend, someone who was born and raised here and spoke only japanese. so that added to my myth of japan, of living here but always being apart. this year i have been speaking the most japanese i have ever spoken in my entire life and i have japanese-japanese friends. after many years of doubting i am starting to accept that i am just as much a part of tokyo as tokyo is a part of me.



Monday, Aug 21, 2006
toy figurines are huge and the field has developed so much, the figures have become so nuanced; they're full of detail and street style savvy. it's another one of those big things that i completely miss out on because of my lack of testosterone, i.e. video games, power rangers, sports cars, star wars... but i had a chance to join in on the fun; i got to customize a random nanospore out of set of eight for the nanospore traveling toy exhibition. it was fun wondering which figure i would get and having to make it into something else, something mine. it felt a bit mission impossible-ish recieving a mysterious package with a unidentified figurine inside. i made my little critter into a frou frou dog-walker and i am happy with my efforts but mine is definitely on the simple and DIY side. you should see some of the other figures....in a word: shamazing. i'm not sure if pictures are up yet from the recent show but here is the link where you can find out more about nanospores, its creator, other cool projects they are working on and the other entries(soon, i am told): nanospore

**update: i just got an email from paul hwang(nanosporean creative topdog). he gave me a link to check out the other artist entries from the taipei show: i wanna see!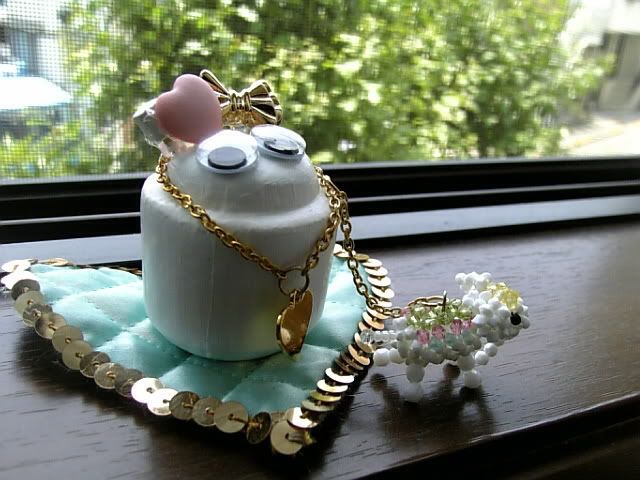 Thursday, Aug 10, 2006
i'm so excited about the two new illustrations i did for the august issue of lemonade.
one is about teen pregnancy and the other is about having a girl crush, which i based
on my friendship with my awesome friend and real-life girl crush, christina aka kit pistol.




(my phonecord curls up into a heart whenever she calls me.)

you can check them out for a limited time at the lemonade website and if you are
in the los angeles area the issues are available to pick-up in cute boutiques and art galleries.

here they are:
here
here


Thursday, Aug 3, 2006
i am winding down my summer vacation. these two weeks off have been great for drawing. i've been "finishing" a lot of drawings and getting juiced for new projects....i need a lot of time just thinking and daydreaming and fooling around on photoshop for all that. anyways, so i have four more days to pump more stuff out.

hmm, so i saw jenny lewis and the watson twins and the like the other day at club quattro. (go l.a.! go tokyo!)
the watson twins are a vision of lovliness, almost surreal. jenny lewis is tiny but very strong looking. the like
are very fashionable and cute. it was a good show although my feet hurt from standing so long in high high heels, basically the heels in this drawing. i think the show would have been better if there weren't certain middle-aged men in the crowd "moshing" and hitting on the girls all throughout the show. i was just getting warmed up after jenny lewis' set(which was so so amazing, the more i think about it) and than the corporate wonders came....my energy level went way, way down because of them....but i had a good time all in all. and i got this drawing out of it....the drummer for the like was wearing a stuffed tigerhead hat and i thought that was soooper cute....got a couple more ideas from this show that i still need to draw. so all is good.


the like
jenny lewis and the watson twins



Monday, Jul 31, 2006
to all my friends that i love, love, love this drawing is for youse!!!
you know who you are!!!


Saturday, Jul 29, 2006
i just added a new drawing(in the drawing section)
and i have two new illustrations coming out in the august issue of lemonade(thanks, evan!).
i am really enjoying using pinks and peaches and drawing little animal friends with all my girls. i think i want to explore doing more silly drawings.

but, yeah, everything that i've been drawing still has a very west coast/los angeles feel which is fine but i'm in tokyo, japan you would think it would show a little in my work... hmmm....i'm happy here but always a little homesick....i guess your style dosen't necessarily change just because you've changed your environment....we'll see.


Tuesday, Jul 25, 2006
They(construction workers) put up scaffolding around our place for repairs. My brother and I really like the scaffolding.


Sunday, Jul 9, 2006
i have two new illustrations for lemonade magazine in the july issue.
here's one, you can see the other one in the commercial section.


Monday, Jul 3, 2006



aya(on the left) had a group show with her friends at a gallery in nippori.
it was a cool show. plus i really liked the neighborhood it had a "shitamachi" feel, an older more traditional vibe.
i definitely need to get away from the shibuya/harajuku/daikanyama thing more.

anyways, for more info on aya click here:
ayasaki
(she's still working on her site so keep checking it.)

Monday, Jun 26, 2006
i recently found the happiest stickers in the world.
my friend, scott, collects collectors of stickers.
check it out here: we love stickers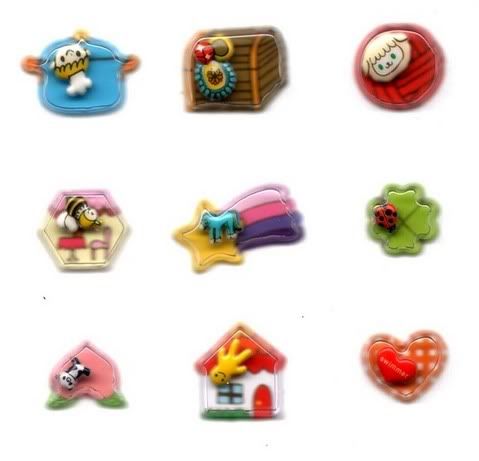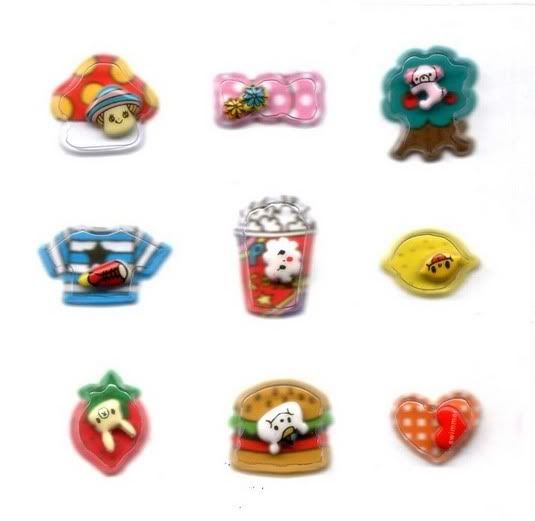 Friday, Jun 23, 2006
i'm back from l.a.
l.a. was good.

Wednesday, May 31, 2006
this is an excerpt from a recent letter to my friends...
a kind of state of the union of esther(in tokyo)

raindrops keep falling on my head, because its the rainy season. my
toenails are starting to rot from wearing wet shoes everyday.
i got a hello kitty umbrella that folds up and turns into a fan, blow
dryer and curling iron because its japan and they have things like
that(plus its so tiny it fits in my purse).
i am writing to say that i am making major breakthroughs spiritually
and mentally day by day.
the other day i turned a corner into positivity land. phewf, i
couldn't wait to get there but it took a long time because i guess i
had some growing up to do. no matter what age one is that still takes
time, no shortcuts there. all the things that were annoying about
japan have changed back into national geographically fascinating
topics. the womanhood, and so many other societal, cultural,
communicational things can seem so warped and strange to me and it
grates my feminist american nerves but i have accepted that i need to
separate myself and observe. i cannot change anything before i
understand it nor can i change it quickly. the best thing i can do
right now is to observe and try to understand why things are the way
they are. now i just want to speak and know as much as i can about
everything.

this whole winter i was wearing my hair long and straight with my
bangs in my eyes.
i was dressed in monotone colors and doing a severe intellectual
look. it came from a feeling of wanting to feel self-sufficient,
coming from me it might have been a weak, round-about, kinda-sorta-cry-for-help, haha.
i am a sensitive snob. no, ifs, ands, or buts about it. i am growing
in terms of trying to be a loving person but i am also an aesthetic
cultural snob(its a good thing to be, damn it) and i was annoyed that
no one in japan could appreciate that. to feel superior again i
decided i would shun japan and her "strange" ways by being "above"
it. i hid behind books and glasses and big pronouncements. i realized
i was having "japan is weird" conversations with other foreigners on
an all too regular basis.

at the same time i really wanted to be friends with japan. my brother
and i always have these "my tokyo", "my l.a." conversations. the
essence of these conversations are that anywhere you go there are a
handful of people doing cool things but the catch is that you have to
find them, meet them. you can go years without meeting them or meet
them all in a week. i am starting to find "my tokyo" and it is the
catalyst of my new optimism about living here.
Sunday, May 28, 2006
i have two illustrations in the next issue of lemonade magazine.
watch out for it.
and...
this is jun marie. it's her first solo show. i've already been three times and each time i see something new.
for information on her or how to access the gallery click here:
junmarie?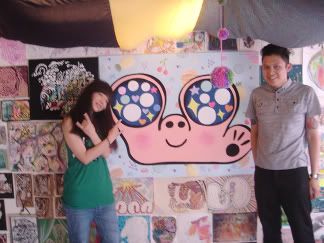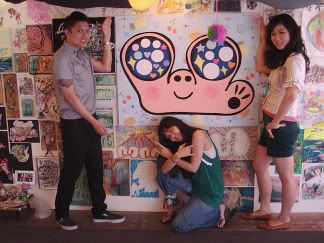 Thursday, May 11, 2006
part II in kit pistol's tokyo adventures.


Tuesday, Apr 18, 2006
adventures in tokyo with christina(http://www.kitpistol.com)
from her visit in march.
this is day one, i will post day two soon.


Wednesday, Apr 12, 2006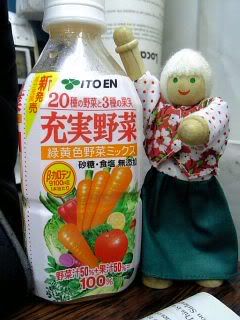 my favorite.
Sunday, Apr 9, 2006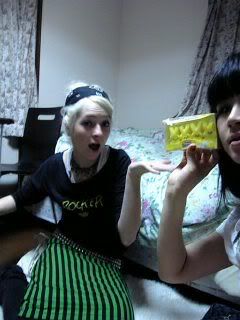 c. came to tokyo!!!
Thursday, Mar 16, 2006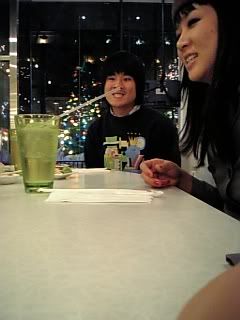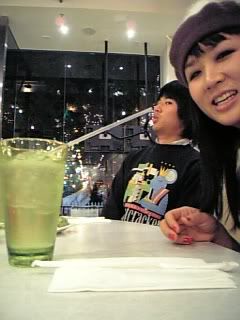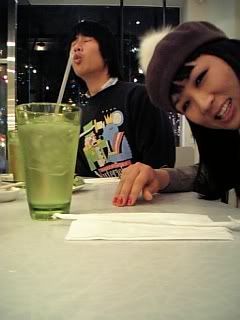 yatta, daniel ga kuru!
Wednesday, Feb 22, 2006
there are a lot of books you buy that you don't read.
how about the girl that buys books she can't read.

i.e. tokyo tower by lily franky


my general impatience propelled me to believe i could suddenly read symbols(kanji) that i have never encountered in my literary life.

kanji yomeneh--------



http://www.lilyfranky.com
Monday, Feb 20, 2006
this kid stole my heart.


Sunday, Feb 12, 2006
spring is coming. i dont know but im starting to feel giddy, about everything, about drawing, crepes, trains, clothes, parties, and about tokyo, too, finally. im really excited about this mental and actual spring that is coming. i had a HUGE mental block but its been lifted by some unknown herculean force, time, perhaps, my parents, perhaps, i don't know but i feel great. i know i should have been soaking this town in but i couldnt and now, now, now im ready and im so excited.
Wednesday, Feb 8, 2006
i miss you already!
mata kitene.


Wednesday, Jan 18, 2006
more silly drawings in COLOR.

Sunday, Jan 15, 2006
this kind of drawing usually happens when i am caffeinated.


Wednesday, Jan 4, 2006
i'm back from los angeles. all this going back and forth is quite confusing but i'm glad i went back. seven months is kind of an arbitrary time period. it's more than half a year but not enough time to get anything done. i went back with supposedly nothing to show. somehow i felt like i had to come back in a big way, i mean i was coming back from JA-PAN. yes, yes, folks, JA-PAN. so naturally i had performance anxiety. upon arrival i was also to succumb to my travel foe, jet lag. it can really sap the energy out of you at the wrong times, sleepy at 8pm, not attractive. so i'm feeling not quite dazzling and i am unable to get my relationship rhythms going as i had expected. new jokes, jobs, joes and jives that i had missed in the interim. those are things that one can get caught up on quickly after all we're friends, but i have always been pre-occupied with mulit-culturalism schism shisms...and it lead me to think about the differences between my life in l.a. and my life in tokyo, both are key and have played equal parts in my development, but the two could not be more different and i had kind of a mini identity crisis. i got kind of traumatized and had to hide out for a bit. i stayed in and watched arrested development dvds and started to feel better. after i relaxed i started having a better time and i ended up wrapping up the trip in high spirits, not really resolving anything but resolving to trust my friends and just keep moving no matter where i live.
Saturday, Dec 17, 2005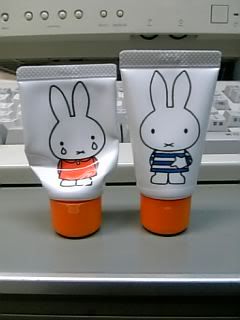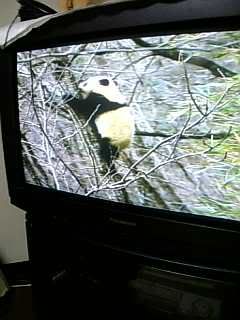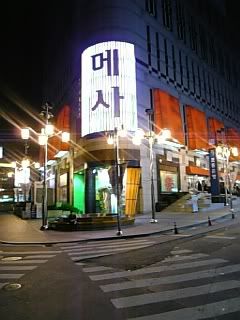 these past few months have been cold. i've been sick a lot.
anyways, these three pics about sum it up for me: oct, nov, dec.
Wednesday, Nov 16, 2005
http://www.uncommonindustries.com
has been updated!!!!!!!!!!!!!!!!!!!!!!!!!!!!!!!

please go check out my dear, dear friend's website.
Wednesday, Nov 16, 2005
my mom and i had a fight about me not having enough winter clothes. i lived in california for six years how is she supposed to expect me to be ready for extreme shifts in weather, seasons, shmeasons.

i know why my mom is nagging me though, because she knows my vanity will kill me. she knows that i will try to wear my summer dresses with tights and legwarmers all winter long and that i will fill the house with bacteria spattled coughing, sneezing and wheezing for three whole months if she doesnt intervene.

the way my mom "intervenes" is either to talk my ear out or to do the complete opposite of what i ask her.
do you want more rice? no. here you are.
do you want a new down blanket? no. here you are, you owe me 2 mon.
do you want new pajamas? no. here you are, you owe me 4,000.

i prefer the latter pattern. because at the end of the day i always eat the rice, the blanket is quilted with extra down on the edges so that it wafts down and traps the heat around my body and was actually 4 mon but she got it half off and the pajamas are darn warm, too.

luckily she doesnt do the "i told you so" thing and she just lets me keep the benefits.
so this is the best way for her to reach me. the path of least resistance, just do whatever she wants without my permission. its hit or miss but its much better than the first.

i am slightly embarassed that my mom can rile me up to the point of severe anger i.e. storming up to my room and not eating breakfast, about not having enough winter clothes. but when she gets on a topic, the more mundane the better, she can make it sound like a capital crime, like its my fault, like i have a major malfunction in my brain for not being prepared for my first winter in six years. i feel like she expects me to have been growing winter clothes in my room and dosent understand why i wont harvest them or make them by hand. but i cant just make warm clothes appear. shopping is even harder. i am a very picky shopper and i only buy what i love which makes for an unconventional and often impractical wardrobe. but i cant help it i dont love gap peacoats and neutral colored corduroys.

so my mom went back to plan b. this evening i came into my room and there was a pile of brown: a brown mock turtleneck sweater, brown corduroys with an inseam up to my neck, brown knit tights, gray knit tights and thermal underwear: all courtesy of my mom's wardrobe(VERY FUNCTIONAL). now this is a smart woman i am dealing with here. she knows that one morning in sheer frustration with my teeth chattering from the morning cold that i will, of my own accord, wear something from that pile.

ah, i cant win, but at least i'll be warm.

Saturday, Nov 12, 2005
lately, i meet my friends for tea and desserts at frames.
http://www.frames-tokyo.info/


Thursday, Nov 10, 2005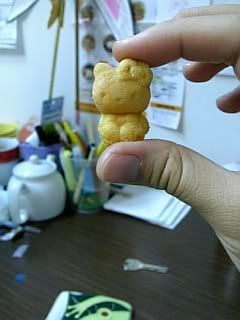 Wednesday, Nov 9, 2005
beautiful decay has been relaunched.
it is sleeker and easier to navigate than the first version.
what can i say, it's beautiful.

http://www.beautifuldecay.com






amir/ beautiful decay/ hybrid heart
Wednesday, Oct 19, 2005
empty trains are nice.


Friday, Oct 14, 2005
so i went to the shibuya american apparel opening. it was really nice to meet all the folks: nice, hot, and smart people those aa-ers
i admit, as much as i try to pretend going out is a waste of time, i enjoy openings and art shows for all the hoopla and fabulousness, i really do.
no, really its not as shallow as it sounds, its actually really dorky. for me an opening
is like an extemperaneous speech contest. i need the stimulus and usually enjoy the challenge of talking with complete strangers.


so yeah, wow, its starting to actually look like i got out often.



kyung, sona, ian.
Monday, Oct 10, 2005
i went to the yokodoll show, my first artshow in japan.
yoko makes amazing handcrafted dolls such as the one below.

charming and sweet.
check out her stuff at:

http://www.hengraphix.com/yokodoll.html


Tuesday, Sep 27, 2005
so this has become more of a blog than a news section...but i aim to please what can i say i want to entertain you with my shenanigans.

something i learned in the past two weeks in my interactions with japanese people.
when in doubt dont hug.
unlike america you are not considered to be witholding emotion or being cold.
someone is leaving the office, as in moving, quitting...you dont need to hug.
your meeting a friend at the station....you dont need to hug.
hugs are reserved for certain occasions and people.
close friends i'd say its up to you....but i would guess you will probably always be the initiator.

according to the norms of my experiences my friends and even casual acquaintances in america always hug hello and goodbye. i don't know if "my" l.a. is extra huggy or what but as a female i have not had many hug misses but i know guys often misread a girl's signals and try to hold hands, kiss, hug prematurely and have had to squirm out of awkward situations. but this is kind of a first for me. it sucks to have someone deflect your hug. so painful for everyone watching and the deflectee is embarassed for the deflected ,oh, and just awkwardness everywhere.
sigh, as they say you learn something new everyday.
regardless i am resolved to remain flexible and undaunted by these deflections.

a fellow tokyo/l.a. friend pointed this out to me recently but culturally l.a. and tokyo are on opposite ends of the pole.

tokyo/ l.a.
clothes/ no clothes
public transit/ no public transit
no boobs/ all boobs

wound up/laidback, formal/casual....etc, etc, i'm generalizing but you get the gist.

i often forget this because even in tokyo i interact mostly with international people who are used to huggy americans, kissy europeans and back-slapping koreans. seven years and counting of mostly foreigner filled social worlds(school, work, church) and so my knowledge of japan is fairly decent but it can be weak socially, think of it like nemo's underdeveloped fin.
so when i am with native japanese "friends"(i dont have many or any(technically) im still in the process of courting a few) i am still the queen of faux pas and awkward moments. long live the loud american in me.

or it might all be in my head, maybe i am the over-sensitive american.


Sunday, Sep 4, 2005
i've been taking a break from drawing. i needed to stop for some introspection and refueling.



Sunday, Jul 24, 2005
so the other day....
i was complaining to my korean friends that in korean dramas and music videos the ratio of people hit by cars to that of actual people getting hit by cars in real life seems astronomically disparate. and that it seems the more attractive you are the higher chance that you will get hit by a car but on top of that the rate of survival is higher for the highly attractive...so that you can be nursed back to life by your repentant lover who caused the accident because you just fought with him and so oops you crossed the street without looking, straight into the path of that car

anyways my korean is very american...so the way i was saying "hit by a car" actually came out to "punched by a car"...
so i was waving my hands wildly and exclaiming how attractive people in korea are all getting punched to death by cars.
Wednesday, Jul 6, 2005
thoughts on japan:

june 30th, 2005
i must say i do miss the friendliness of americans. i especially miss being able to say bless you freely. i was in a public bathroom the other day, a really nice one too, the kind where the water turns on by sensor, and the girl next to me sneezed. i almost said bless you but stopped. i tried to think if there was an equivalent for bless you in japanese but there isn't so i helplessly let the sneeze hang in the air and left shortly.

i also miss being able to smile and say hello to random people on the street...

and in stores the salespeople don't say, "hi, how are you? i'm linda, the bath salts are twenty percent off today. let me know if you need any help"....here they are like willow trees standing by the counter calmly folding and refolding and sweeping and cleaning....most people would like that better than the former...but when i go to a store i want to interact. i want an experience. i like the riff and raff and the improvising of what excuse i'll make up to have them leave me alone. it's kind of sick but i enjoy the desperation of american salespeople. it makes me feel needed as a customer...they want to shmooze me and so they compliment my shoes and try to be my friend. the japanese salespeople call out "irashaimase" and silently smile like they can read my thoughts or something and so they don't have to talk to me
and as a former shopgirl i want to give them a peptalk.

i realize i really enjoy banter and i don't get enough of it lately. i just want people to talk to me except the ike-men in shibuya...i have yet to think of a clever retort to make them shrivel in their tracks...they must wait... my brilliance is waning, in the heat that is.

july 2nd, 2005

i'm liking shimokitazawa a lot lately.
excellent thrift stores.
i bought a vest today for 500 yen. i really don't know what the point of a vest is but i thought it looked nice so yeah... it's cream corduroy with leather woven buttons. i'm gonna wear it with my prairie dress and cowboy boots. so this year is not only faux french but also prairie pretty with a side of whatever my next job requires.
it's my first clothing purchase since i got here.
i think i can live here for a year...i'm quietly adjusting. i really need to write down all my reactionary feelings before i forget and get comfortable again. my american googles never quite completely come off when i'm here but this time their really strong. i guess that's what you get after being in the states for six years.

anyways, i'm finding long lost old friends. a lot more people are back than i expected. people i didn't know i missed until i saw them again.

july 5th, 2005

Child OF The Nineties, sigh.

i've been cleaning out the room that i lived in for three years roughly 96-99. wait, did i say cleaning out, i meant unjudiciously throwing out everything....stacks of old seventeen magazines(japan and u.s. version), topmodel magazines(does anyone remember that?), stacks of paperwork from ap u.s. history, a.p. biology, a sweet valley high twins book, other stupid paperbacks, class notes, poster of kang-ta, notebooks, old makeup, facial lotion samples, old nail polish, postcards, stuffed animals, mixtapes, school patches, etc... basically everything.

after moving over ten times in my life,(not including college), i've lost any last shred of sentimentality i ever had. postcard from a boy that used to like me...trash, cummberband and bowtie from madrigals(which i woke up at 5am to go to practice)...trash...etc.
if i get misty eyed and want to save something i remind myself that it is either the ego or the coffee speaking.....i mean, it's not like someone is going to write a biography about me nor is it realistic to save it on the assumption that i'm really going to file and organize and read all those a.p. notes one day. if i forget some stuff so be it. i don't want anymore useless things. things clutter life.

i aspire to be one of those people who don't have a lot of things but each thing they have is very well thought out.
Wednesday, Jun 29, 2005
thoughts about japan, this is something i wrote about two weeks ago:
it's been two years since i've been back. and driving into tokyo from narita i looked around at what looked to me like a movie set town. the dimensions of everything are so small it feels as if everything is folded away at night. a fake town.
japan, it's a nation of unrelenting politeness and propriety and my american side is suspicious of the duty-like politeness, questioning the motive behind the gesture. but that's the thing there is no motive it's just the upbringing and what a high human per square foot ratio society requires in order to function. here i can sense a country trying it's best not to let it self go. not to become a full-blown leisure society like the u.s. it has almost a quaint feel where people are dressed nicely even just for a quick jaunt to the supermarket.

anyways, i'm starting to get excited to be able to write more psuedo anthropological culture analysis babble. i'll suffer and gain new experiences and it'll do wonders for my art. i've been too happy in l.a. with my laugh a minute friends and easy access everything night life. here it'll be a monastic year for me. i will stay home and paint, draw, read and figure out what it is i want to do or keep trying to head in the right direction. i also need to drink in my parents.speaking of which, as soon as i entered the house all the memories flooded back. i forgot how little our living room was. the house felt as if it belonged to a grandma and grandpa. the pictures on the fridge were all new ones of my mom and dad that i had never seen. the pictures of my brother and i were old ones. i haven't really been a working part of this household dynamic since high school. it will be interesting to see how it is this time around. i'm sure hilarity will ensue.
Saturday, Jun 4, 2005
i'm here in japan!!!
it's great to be back. i will update more soon.
Sunday, May 1, 2005
i'm moving back to japan in the end of may. my time in l.a. has been long and ardous but definitely worth it. i went from the suburbs of tokyo to the school for the spoiled progeny of southern californina to the "streets of l.a." (more like clubs and art galleries of l.a.) and now back to tokyo, japan.
this time will be different i'm sure.
i am more of a person.
my seven years there from middle school to high school seem like a lifetime ago. i've shed the shyness and am now ready to reacquaint myself with the city.
i will miss l.a.
but mostly i will miss my friends.
ah such a sap.
i love my FRIENDS, especially my girl friends!!! charm school and feelers forever!!!
yeah yeah!!.
e. to the k.
Tuesday, Mar 22, 2005
hello everybody after months of hard work the website is up and running.
thank you all for your patience.

Friday, Mar 18, 2005
here is my friend andrei who singlehandly designed this website for me. amazing, right but it dosen't stop there he also photographed all the portraits on the homepage. such a multi-talented guy. so check out his website and leave him some notes!! thank you andrei!!
http://www.andreikalamkarov.com